PAC-MAN
7.2.1
Pac Man Tournaments
If you are a fan of arcade games and in particular Pac Man then you are going to absolutely love this game. PAC-MAN is fun and entertaining gaming app which offers you the chance to play the popular arcade game of Pac Man on your Android device. It provides the same addictive gameplay and experience that the arcade version is famous for. Just like in the arcade version, you will have to eat the pellets and fruits while avoiding the ghosts that are chasing you in this Android version as well. The controls of this game are pretty slick too, making it easier to play for one and all.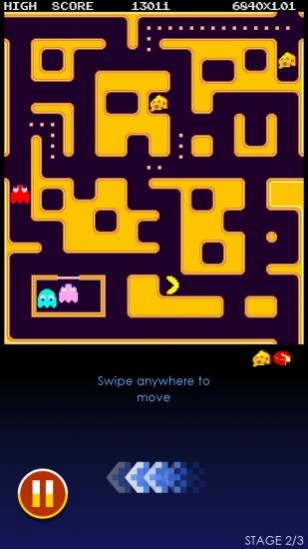 The gameplay of PAC-MAN is exactly the same as that of the original Pac Man. In this game, you are the Pac Man whose task is to eat all the pellets and the fruits that appear in the maze while steering clear of the ghosts that are hot on your tail. You can turn the ghosts blue by eating blinking dots on the maze after which these ghosts can be eaten to enhance your score. To move Pac Man in the maze, you will have to swipe your finger in the direction you want it to move.
PAC-MAN comes loaded with a wide variety of mazes. In addition to the old mazes, lots of new mazes have been added to this game. These mazes are both challenging and test your reflexes to the limit. There are three different game modes on offer for you in this version of Pac Man. The classic version of the game in which you will have to complete the levels and score points is one of the game modes available to you. Other game modes include tournaments and mazes. In mazes mode, you have to complete the various different mazes by finishing all of their levels. The tournament mode requires you to complete a set of maze levels and score as many points as possible within a limited time period.
In PAC-MAN, you are provided missions that you need to complete in order to gain orange biscuits that are required to unlock mazes. These missions require you to perform certain tasks in each of the three game modes. After completing the given task, you can claim your reward by clicking the claim button present in front of them. Some of the missions are time-sensitive and need to be completed within a given time period. Most of these missions are easy to complete though and won't be too big of a problem for you. You can find these missions in the PAC-Missions menu the option for which is located on the top-left corner of the screen.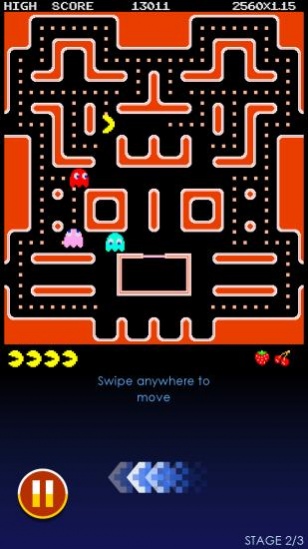 This version of Pac Man offers helpful tips and hints to you as well at the beginning of levels. These tips and hints can help you in improving your game and scoring a higher number of points. Make sure that you follow these tips as they can aid you in your bid to win tournaments and complete the mazes quickly. Another new addition in PAC-MAN is the option of competing with players from all over the world. The scores you get in a maze or in a tournament will be ranked against the scores of other players. You will be shown where your score stands in the global rankings after you have finished a maze or a tournament.
Features:
Addictive gameplay
Slick controls
Same as the arcade version
Lots of new mazes to play
Mission to complete
Tips and hints provided during game
Various tournaments to take part in
Play with friends and see who scores highest
Conclusion:
PAC-MAN is a gaming app that is marketed towards people who like playing arcade games on their handsets. It enables them to enjoy Pac Man on their handsets, offering the same endless amount of fun as the arcade version. It is a must-have game for anyone who wants to spend his spare time having loads of fun.
---
Add a review
Tell us your experience with
PAC-MAN
7.2.1
RELATED PROGRAMS
Our Recommendations
---
---
---
---